"Life as it is"
It's December
Tuesday, November 30, 2010 || 11:59 PM
I want to do something like this in the future ;) Of course, I have to promise to keep my room neat blahblah I'm going to sleep now. Long day tomorrow! Goodnight all.
It's December. Let's be awesome and
make love
(and not war) :):)
Labels: nights
more blahblah
|| 5:47 PM
Dr Oh was charged for molesting his colleague, whose age is more than half his
I don't find it a serious matter, because it kinda sounds surreal.
I mean, seriously, Dr Oh, the lecturer who doesn't know how to speak and read English properly!?
Who is such a good teacher nevertheless (at least better than _____)?!
Yeah let's shit bricks, all.
I'm listening to Miss Independent. It's such a perfect song for now! Like, I can go to sleep smiling.
Comel (whom we all miss very very much), Anja & Baby turning 1 this Dec 13th. I'm going to buy them something. Oh my (: (: (:
Taking out P-Plate this Dec 7th! I'm so eggcited. I'm already half-platter HAHHAA k lame. I mean, the back one is missing, so my P-Plate is only in front. And I'm already feeling
Like
A
Boss
Anyway, should I take 2a next, or 3? A friend said 3, my brother said it's up to me (though he was the one so excited for me to get 2a at first), I've yet to ask Hari - 100% will say take class 3.
I'm so eggcited :)
I'm taking 2a and 3 then. HAHAHHAA
Like a lot of money hor -_-
and to get a 2a bike, gonna trade in my Aarav (r-15) but I don't want! I want to save save save parents'money parents'money to get class 2 bike. I need to motivate myself to get moneyyyyy
haha
I suck.
It's not even Dec 7th yet
stupid.
Labels: bike, birthday, cats, school
Some of the things
|| 5:31 PM
So many things have been happening! Too lazy to type them all out. What's important is that I'm living my life to the fullest (kinda sorta), and I'm v happy.
It's just that, the whole 'old flame' thing is getting to me. So please dear heart, be a happy and Satisfied heart! :)
Some of the things that happened:
Labels: life
100 days (don't mind the broken eng) (not mine) (tumblr ftw)
Wednesday, November 24, 2010 || 7:48 PM
Boy and Girl are sitting in the park doing nothing, but just gazing into the sky, while all their friends are having fun with their beloved half.
Girl: I'm so bored. Just wish I have a boyfriend now to spend time with.
Boy: I guess we're the only leftovers. We're the only person who isn't with a date now.
(both sigh in silence for a while)
Girl: I think I have a good idea. Lets play a game
Boy: Eh? What game?
Girl: Eem..It's quite simple. You be my boyfriend for 100 days and I'll be your girlfriend for 100 days. what do you think?
Boy: Oookay..Anyway I don't have any plan for the next few months.
Girl: You sound like you aren't looking forward to it at all. Cheer up. Today will be our first day and our first date. Where should we go?
Boy: What about a movie? I heard that there is a really great movie in theater now.
Girl: Seems like I don't have any better idea than this. Lets move. (went to watch their movies and sent each other home)

Day 2:
Boy and Girl went to a concert together, and Boy bought Girl a keychain with a star.

Day 3:
They went shopping together for a friend's birthday present. Share an ice-cream together and hugged each other for the first time.

Day 7:
Boy drove Girl up onto a mountain and they watch the sunset together. When the night came and the moon glowed, they said sat on the grass gazing at the stars together. A meteor passed by. Girl mumbled something.

Day 25:
Spend time at a themepark and got onto rollercoasters, and ate hotdogs and cotton candy. Boy and Girl got in the haunted house and Girl grabbed someone's hand instead of Boy hand by accident. They laughed together for a while.

Day 67:
They drove pass a circus and decided to get in to watch the show. The midget asked the Girl to play a part as his assistant in the magic show. Went around to see other entertainments around after the show. Came to a fortune teller and she just said "Treasure every moment from now on" and a tear rolled down the fortune teller's cheek.

Day 84:
Girl suggested that they go to the beach. The beach wasn't so crowded that day. They have their first kiss with each other just as the sun is setting.

Day 99:
They decided to have a simple day and is deciding to have a walk around the city. They sits down onto a bench.

1:23 pm
Girl: I'm thirsty. Lets rest for a while first.
Boy: Wait here while I go buy some drinks. What would you like?
Girl: Eem…Apple juice will be just fine.


1:43 pm
Girl waiting for about 20 minutes and Boy havent return. Then someone walked up to her.
Stranger: Is your name Girl?
Girl: Yes, and may I help you?
Stranger: Just now down there on the street a drunk driver has crashed into a guy. I think its your friend.
Girl ran over to the spot with the stranger and sees Boy lying on the floor with blood over his face and her apple juice still in his hands. The ambulance came and she went to the hospital with the Boy. Girl sat outside the emergency room for five and a half hours. The doctor came out, and he sigh.

11:51 pm
Doctor: I'm sorry, but we did the best we could. He is still breathing now but God would take him away from us very soon. We found this letter inside his pocket.

The doctor hands over the letter to Girl and she goes into the room to see Boy. He looks weak but peaceful. Girl read the letter and then she burst into tears. Here is what the letter said.

Girl,
Our 100 days is almost over. I had fun with you during all these days. Although you may be greedy sometimes and less thoughtful, but these all brought happiness into my life. I have realize that you are a really cute girl and blamed myself for never taken the time to knowing that. I have nothing much to ask for, but I just wish that we can extend the day. I want to be your boyfriend forever and wish that you can be beside me all the time. Girl, I love you.

11:58
Girl: (sobbing) Boy. Did you know what was the wish I made on the night there was a meteor. I asked God to let us last forever. We were suppose to last 100 days so Boy! You can't leave me! I LOVE YOU, but can you come back to
me now? I love you boy. I LOVE YOU.

As the clock struck twelve, Boy's heart stopped beating. It was 100 days.
|| 3:55 PM
QEEZA YOU MOTHERBOSS, YOU LOOK LIKE A MONKEY HAHAHAHAHA
|| 1:10 AM
I wonder if Hari gets jealous when he sees this
haha why! He shouldn't, but feel happy instead because....
Nah nevermind hehe
I don't like school anymore cause no more Lloyd and Paul Cheung ):
They are so awesome and Amanda and I have a crush on them.
Which is good because I loved MGEN so much thanks to PC!
Now right, I don't like school because of KFC
): How to do well like that!
& just now we so excited to walk past them in ITAS
Hahaha
I complain like one chicken
haha
very funny!
Monday, November 22, 2010 || 11:22 PM
last gif last gif
tvd cast
|| 11:19 PM
|| 11:16 PM
I did a quiz on facebook
HOW MENTALLY UNSTABLE ARE YOU?
Find out how crazy you are!
by

Moose Harriott
1. You just got fired from your job, what do you do?
Confront your boss and tell him to go f*ck himself
2. Someone calls you a faggot at your local bar, what do you do?
Ignore him, because he is trash.
3. You are being held at gunpoint in alley, what do you do?
The voices in your head tell you to bite his hand off.
4. Your wife/husband gets pissed at you for leaving the sink on and flooding the house, how do you react?
Tell them sorry and clean up the mess.
5. You find your spouse cheating on you, how do you respond to this?
Stare at them with a blank face and say "how good is she?"
6. The kids that live above you are throwing a massive party, after telling them to turn it down they turn it up, how do you react?
Call the cops.
7. How was/is school for you?
It is/was normal, I had alot of friends.
8. How do you want to die?
Why the hell would I want to die?
9. What is your ideal Christmas gift?
10. When the word 'red' comes into mind, what do you think of?
(
The blood of my enemy running down my mouth
would be nice, but I wouldn't want a tastae of my enemy's blood. so)
I'M NORMAL :)
I'M NORMAL :)
I'M NORMAL :)
I'M NORMAL :)
I'M NORMAL :)
I'M NORMAL :)
never met one like you
|| 6:42 PM
My current theme song for now :)
There's so much positivity, which is just perfect.
Once I listened to this song on repeat before going to work, and then...
I had an awesome day at work lor! Because the song makes me smile a lot!
Tonight gon' keep myself busy so that I won't get distracted
and also
must
go to sleep early tonight :)
Because I can't wait Monday to end, and for Tuesday to start :)
Mmmm studying at Coffeebean perhaps?
king of RnB. Hell to the yeah.
I want someone who tries hard, like Neyo! But then again, it's reality
I love my blog
Sunday, November 21, 2010 || 1:01 AM
This is me now
because I'm thinking so much
because I have high expectations (despite the constant reminders to self to NOT have any)
because I miss
them
because
I feel so not important.
I'mma watch Paranormal Activity 2 now, then fall asleep because I'mma have a long day tomorrow.
Peace!
a lil' blah
Friday, November 19, 2010 || 1:05 AM
LOTS OF GIRLS ARE PROBABLY CHASING YOU DOWN THE STREET…
"I would…not argue with that. "

—Ian Somerhalder NBC NY 11th May 2010
Haha pictures taken on 14th will be posted prolly this Sat.
School's at 8 tomorrow, followed by work, and then Fridate <3
I'm enjoying life so much, I got a feelings something very bad is going to happen to me.
Let's make each other smile, okay lovers!
Apitos: Dell SA Executive Summit 2010
Wednesday, November 17, 2010 || 2:20 PM
Had an amazing time with dearest Apitos :)
I'm going to perform my prayers & then to my nenek's place for IdulAdha.
Selamat Hari Raya fellow friends :)
I shall update this space tonight or something.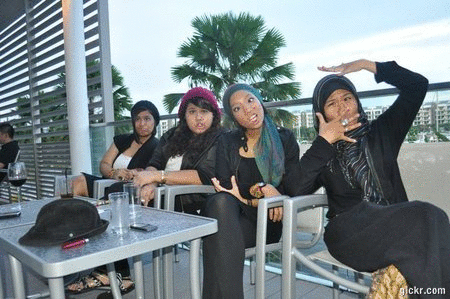 With Love, A :)
p/s don't mind me if I kept saying, "I'm not pretty". I'm feeling very very ugly now thank you very much :)